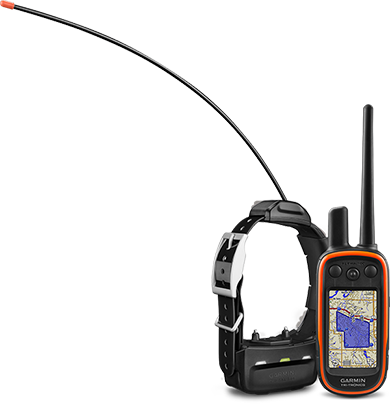 An invaluable tool in the field, the Alpha 100 helps you achieve optimum performance from your sporting dogs. It combines proven Garmin GPS dog tracking with Tri-Tronics® electronic dog training technology. This easy-to-use integrated handheld system allows you to track and train your dogs in the field at a range of up to 9 miles (TT 15) or 4 miles (TT 15 mini) away, delivering their exact position as often as every 2.5 seconds.
With multiple Alpha 100 handhelds and TT™ 15 or TT 15 mini dog devices, pinpoint up to 20 dogs or hunters' exact positions on a large, glove-friendly touchscreen display even when they are out of sight. Because Alpha 100 comes preloaded with TOPO U.S. 100K maps, you'll always know your surroundings.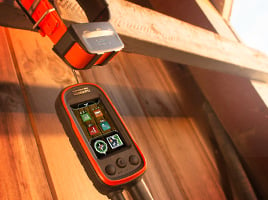 Track Your Dogs
Measure each dog's speed, distance and the direction being traveled. Plus, receive notifications when a dog is "Treed" or "On Point." A single Alpha 100 can track up to 20 dogs or fellow hunters by receiving signals from additional Alpha 100 handhelds, TT 15 and TT 15 mini dog devices (each sold separately). Or, choose tracking only with the new T 5 or T 5 mini dog devices. For competitions that don't allow stimulation, tone or vibe, the compatible T 5 or T 5 mini tracking devices are an excellent alternative. And, if you're using a vehicle to follow and retrieve your dogs, the Garmin DriveTrack™ 70 dog tracker and GPS navigator (sold separately) provides an easy-to-watch "big picture" solution. The 7-inch moving map display shows dog positions overlaid on TOPO contours or satellite image views – along with navigation cues that help point you to your dog's current location.
BirdsEye Satellite Imagery (subscription required)¹ allows you to have a better-than-real-life view of terrain, including roads, water, woods and more.
Train and Control
Two modes of level progression let you customize your training even further.
Alpha 100 helps you train and control your dogs to stop chasing unwanted game. Easy to access training buttons allow you to communicate separately to each dog through safe and effective features, including 18 levels of momentary and 18 levels of continuous stimulation or an audible tone or vibe command. Plus, a lockout setting is available to avoid accidental stimulation or tone.
Select from 2 stimulation modes to customize your training even further. Traditional stimulation allows you to make quick changes (low, medium and high) within a predetermined stimulation level (1 through 6), whereas linear stimulation allows progressively more stimulation from level 1 through level 18.
Extend Your Battery
When using the TT 15 or TT 15 mini, switch to Rescue Mode to prolong the battery life. When the TT 15 or TT 15 mini reaches approximately 25 percent battery life, it will automatically slow down the update rate at which it pings Alpha 100 from every 2.5 seconds to every 2 minutes. This mode conserves the battery life of the TT 15 or TT 15 mini, giving you more time to search for and locate your dog.
Plan Your Next Trip
Take charge of your next adventure with BaseCamp, software that lets you view and organize maps, waypoints, routes, and tracks. This free trip-planning software even allows you to create Garmin Adventures that you can share with friends, family or fellow explorers. BaseCamp displays topographic map data in 2-D or 3-D on your computer screen, including contour lines and elevation profiles. It also can transfer an unlimited amount of satellite images to your device when paired with a BirdsEye Satellite Imagery subscription.
Turn Your Computer Into a BaseStation for Tracking Dogs
Load your laptop with BaseStation software to turn it into a field control center for tracking multiple dogs and/or buddies (up to 20 Alpha units, TT 15 or T 5 dog devices). View real-time GPS information on the larger display of your computer, making it ideal for canine search and rescue teams. And because it's GPS and GLONASS, you'll get safe, secure and more effective tracking, even where Internet and cell phone service isn't available.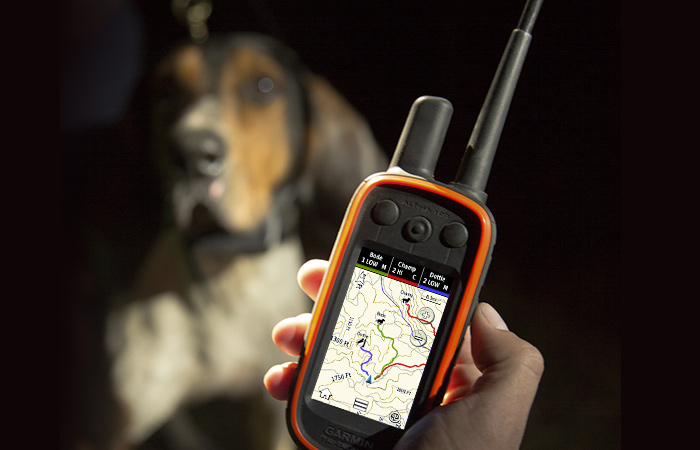 ¹1-year BirdsEye Satellite Imagery subscription is only included with purchase of the Alpha 100/TT15 bundle and Alpha 100/TT 15 mini bundle.
Due to varying international regulations, this version of the Alpha is approved for use only in the United States. The sale and unlicensed use of the Garmin Alpha dog tracking and training system in any form is currently prohibited by the Canadian government. In June 2009, Industry Canada announced that the MURS radio frequency used by the Alpha would be allowed in Canada following a 5-year transition period. However, in June 2014, Industry Canada reversed its position, noting "the Department does not feel that the introduction of MURS devices in Canada is warranted at this time, and has decided to defer the introduction of MURS devices in Canada until a clearer indication of actual need is provided by Canadian MURS advocates and/or stakeholders." Garmin remains interested in offering the Alpha to our Canadian customers, and will be contacting Industry Canada in support of that goal. Potential Canadian customers should also contact their local Industry Canada office to express their desire to have the product approved for use in the country.